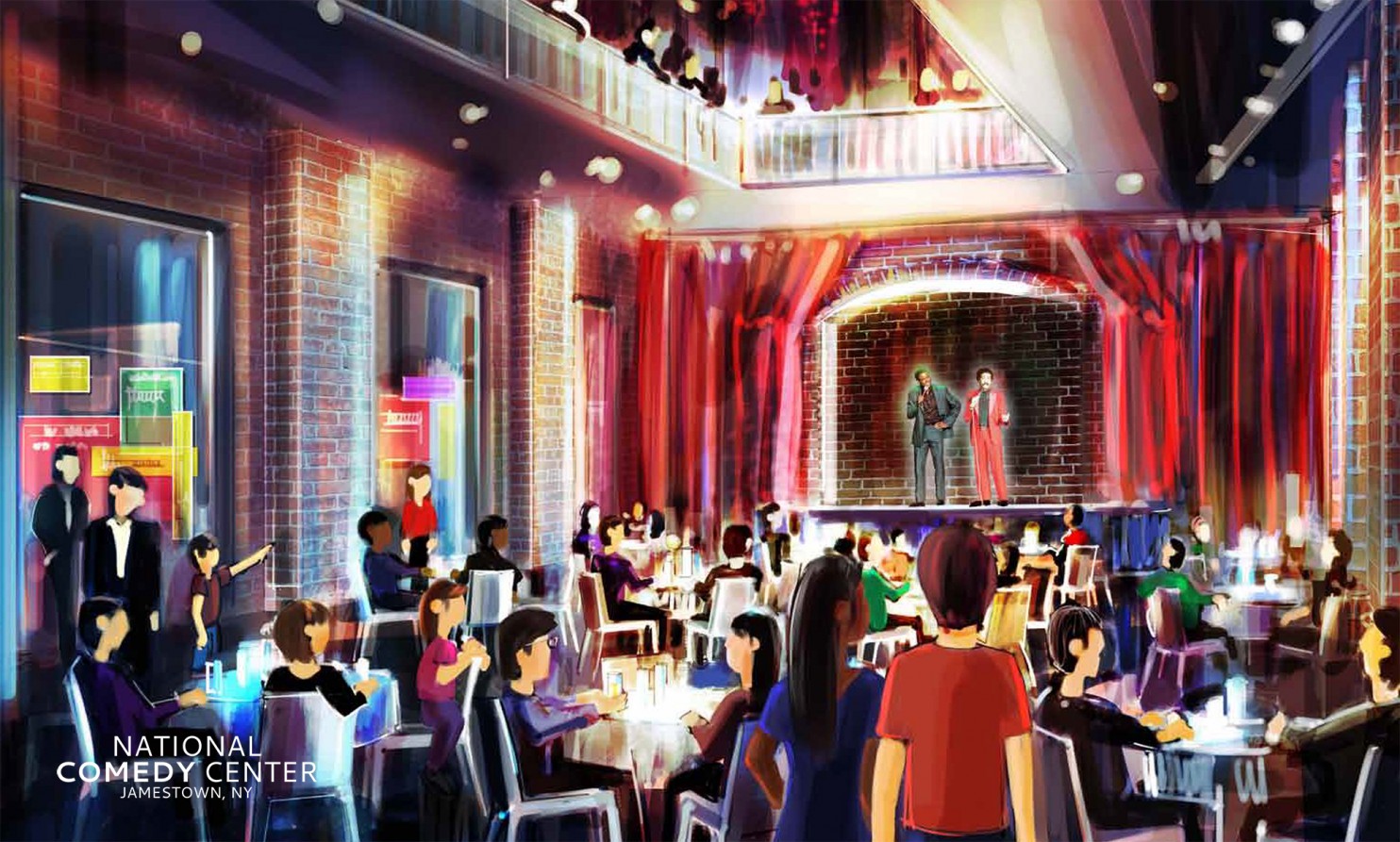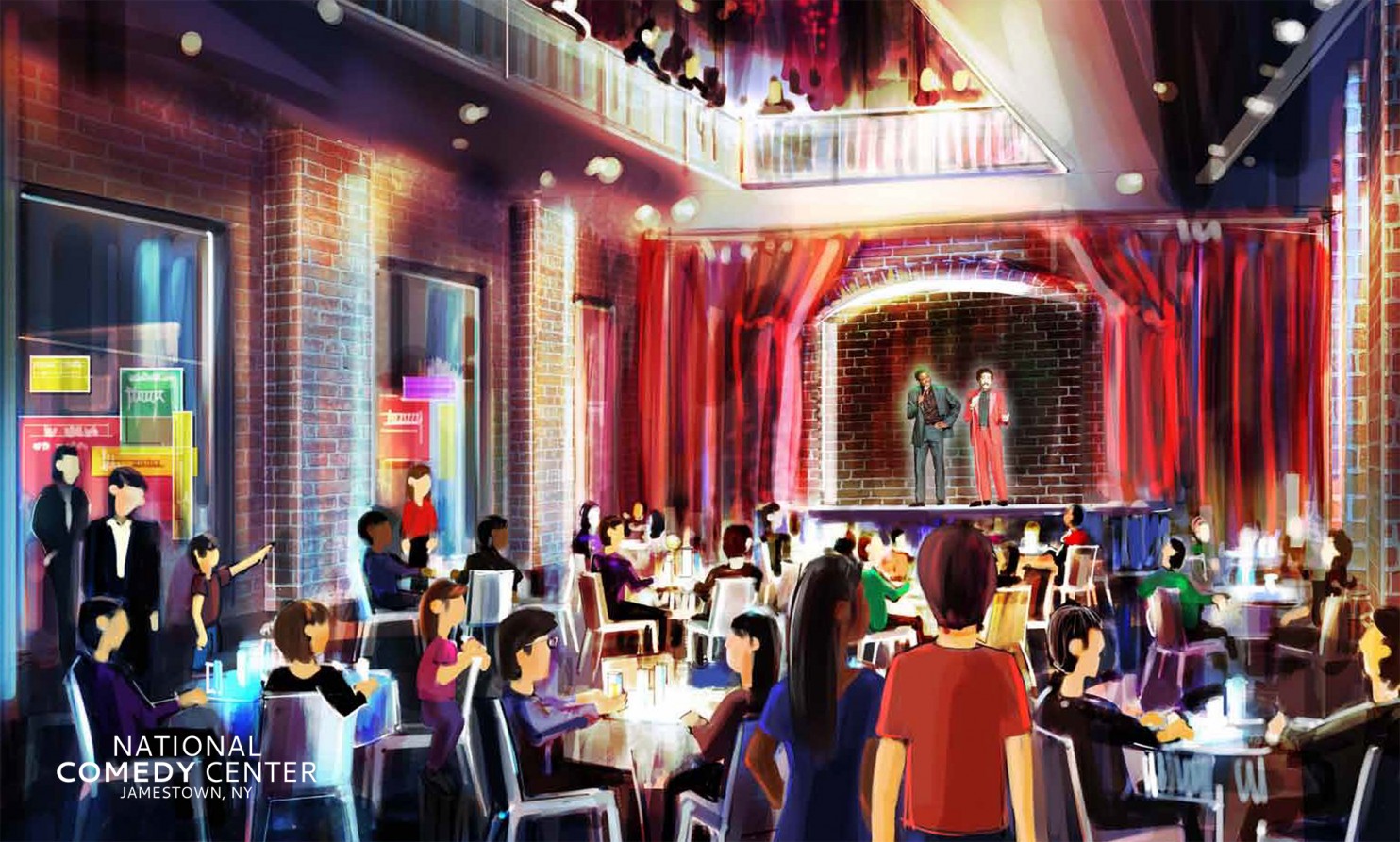 The real reason why holograms of dead comedians are so innovative
A new Hologram Comedy Club, scheduled to open in August 2016 in Jamestown, NY as part of the National Comedy Center, promises to bring dead comics back to life. (Lucy Desi Center for Comedy)
Hologram pioneer Hologram USA — the same people who gave us the Tupac Shakur hologram at Coachella in 2012 — just announced its latest "digital resurrection" project: a new plan to bring dead stand-up comedians back to life using holograms. At a new Hologram Comedy Club being built as part of a new $18 million National Comedy Center in Jamestown, N.Y., tourists will have a chance to watch iconic comedy routines from some of the all-time comic greats — such as George Carlin, Rodney Dangerfield and Bob Hope — in an intimate comedy club environment.
The big idea, of course, is that watching a live comic performance in a simulated comedy club environment will give people a better appreciation for a comic's talent than just watching archival film footage in a museum theater or streaming comedy performances to a tablet or TV (think of those HBO comedy specials). By watching a full-scale hologram performance (10 to 12 routines of 4 to 5 minutes each), people will get a chance to experience how comics of an earlier era worked a room, the impeccable delivery of a well-timed joke, and the unique charm and charisma of a legendary stage performer.
There's obviously a lot of technological high tech wizardry required to pull this off. However, there's another reason why comic holograms are so innovative — they could become a boost to economic development and tourism for cash-strapped cities looking to bring in new visitors.
It's no accident that the site of the planned hologram extravaganza is in Jamestown, N.Y. – that also happens to be the hometown of all-time comic great Lucille Ball, star of "I Love Lucy." The town, located in southwestern New York State near Lake Erie, was once the "Furniture Capital of the World." Fast-forward to 2015, and the city is looking for new ways to revitalize growth.
Snoop Dogg, left, and a hologram of the deceased Tupac Shakur, right, perform onstage during the 2012 Coachella festival in Indio, Calif. (Christopher Polk/Getty Images for Coachella)
Enter the hologram.
The launch of the Hologram Comedy Club, then, is a play to attract more tourists to the area by building on the town's long historical affiliation with Lucille Ball. The new comedy center has the backing of New York's economic development officials, who view it as part of the state's long-term tourism strategy and an extension of the iconic "I Love New York" branding campaign.New York Gov. Andrew Cuomo gave the National Comedy Center a $1.5 million grant to help make this hologram comedy magic happen.
When you think about it, the economic development and tourism angle makes so much sense for other cities as well, not just Jamestown, N.Y. Imagine taking that same hologram technology and using it to sell out shows in once-proud industrial cities that have lost their manufacturing base or, quite frankly, cities in the middle of nowhere. All of these cities have local heroes and celebrities they could turn into holograms, just as Jamestown has capitalized on its history as the birthplace of Lucille Ball.
Take Detroit, for example. In addition to some of the famous comedians who hail from the Detroit area (think Ed McMahon or Lily Tomlin), there are all kinds of musicians and entertainers who might make for some compelling holograms — Stevie Wonder, Eminem, Aretha Franklin, Kid Rock, The Supremes or The Temptations.
Holograms and tourism is more than just mere speculation. As a showcase for its "digital resurrection" technology, Hologram USA is working on world tours for dead celebrities, including Buddy Holly and Liberace. While no firm dates have been set, Hologram USA says that the debut performance for a hologram Liberace could take place in Las Vegas. This hologram tourism would include full-scale shows, including opportunities for the audience to interact with the performer. As Hologram USA chief executive Alki David said in a statement, "I can't think of a better way to experience America's comedy greats than in the live setting they thrived in at their peaks."
The big question, however, is whether this hologram technology is really any better than just watching old TV clips on YouTube. Critics would say that today's holograms are just a massively high-tech adaptation of the famous Pepper's Ghost illusion that has been around since the 16th century.
Watching a comic hologram routine as part of a sold-out audience might replicate the same type of electric feeling you get from seeing a comic live. But now imagine watching a comedian hologram in an empty room, or, even worse, in a room full of crying kids and stressed-out grandparents who are trying to teach their grandkids about their favorite comic legends.
Hologram USA, though, is a leader in North American hologram technology, working on everything from the Tupac Shakur hologram at the 2012 Coachella event (still pretty much the classic example of hologram entertainment) to the touring Buddy Holly and Liberace holograms. That's confidence enough that they will be able to pull this off when the Hologram Comedy Club opens for business in August 2016.
The really fascinating part is how the combination of holograms and telepresence technology could make it possible for entertainers to be in more than one place at a time. In one proof-of-concept, Hologram USA partnered with Jimmy Kimmel in a telepresence experiment, in which Jimmy Kimmel in New York simultaneously appeared as a hologram in Nashville for the Country Music Awards.
That might really open up some opportunities for holograms to change the world of tourism as we know it. Imagine concert tours in which entertainers headline in more than one city at a time. A New Year's Eve performer, for example, could rock out simultaneously in New York, Miami and Las Vegas — or in any city in between. Who said that human capital wasn't scalable?
Holograms could be a game-changer for the tourism industry, since now all the action seems to occur in places such as Las Vegas, Orlando or New York — places where there's a critical mass of tourists for entertainment companies to invest in expensive technology and plenty of venues to pack in the crowds night after night. But what happens if a hologram entertainment complex pops up in, say, a small college town that can nevertheless pack in more than 100,000 fans for big college sporting events? Wouldn't a performer give the go-ahead for his or her hologram to put in an appearance if it could attract 100,000 paying customers?
Celebrity holograms are interesting already, but still more interesting when you think of what they could do for the economic development and revitalization of celebrity hometowns across the nation.