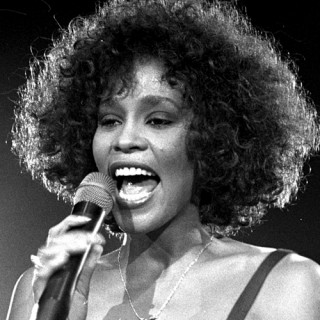 Whitney Houston
Whitney Elizabeth Houston was born into a musical family on 9 August 1963, in Newark, New Jersey, the daughter of gospel star Cissy Houston, cousin of singing star Dionne Warwick and goddaughter of soul legend Aretha Franklin.
She began singing in the choir at her church, as a young child and by the age of 15 was singing backing vocals professionally with her mother on Chaka Khan's 1978 hit, 'I'm Every Woman'.
She began working as a featured vocalist for the New York-based funk band Material and it was the quality of her vocal work with them that attracted the attention of the major record labels, including Arista with whom she signed in 1983 and where she stayed for the rest of her career.
Her debut album, 'Whitney Houston', was released in 1985 and became the biggest-selling album by a debut artist. Several hit singles, including 'Saving All My Love For You', 'How Will I Know', 'You Give Good Love', and 'The Greatest Love of All', were released from the album, setting her up for a Beatles-beating seven consecutive US number ones. The album itself sold 3 million copies in its first year in the US and went on to sell 25 million worldwide, winning her the first of her six Grammies.
The 1987 follow-up album, 'Whitney', which included the hits 'Where Do Broken Hearts Go' and 'I Wanna Dance With Somebody', built on her success but it was the 1992 film The Bodyguard (1992) that sealed her place as one of the best-selling artists of all time. While the movie itself and her performance in it were not highly praised, the soundtrack album and her cover of the Dolly Parton song 'I Will Always Love You' topped the singles and albums charts for months and sold 44 million copies around the world. This was followed up in 1998 with her Album, 'My Love Is Your Love'.
Her 2009 comeback album 'I Look To You' was positively received and sold well. Her final acting performance was in Sparkle (2012) (a remake of the 1976 movie, Sparkle (1976).
Her sad passing was mourned all over the world by her grieving fans as she had touched the hearts of Millions of people with her remarkable voice.
Please wait, we are currently generating print version... You can request it directly
here
if something doesn't work.