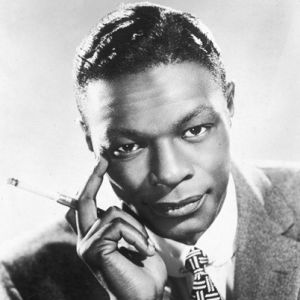 Nat "King" Cole
Nat "King" Cole (March 17, 1919 - February 15, 1965) conquered the pop charts in the Fifties and early Sixties as a warm-voiced singer of orchestrated ballads like "Mona Lisa" and "Unforgettable", and breezy, countrified sing-alongs including "Ramblin' Rose" and "Those Lazy-Hazy-Crazy Days of Summer". Nathaniel Adams Coles was born in Montgomery, Alabama, in 1919. His mother was a church choir director, and his father was a Baptist pastor. When he was four years old, Cole and his family moved to Chicago. Around the same time, Cole learned how to play piano. He then began formal piano training when he was in his teens. He was inspired by the piano playing of Earl Hines, and when he was 15, he dropped out of school to become a full-time jazz piano player. In 1937, a club owner in Los Angeles christened him Nat "King" Cole, and that same year he formed the King Cole Trio. The jazz trio toured extensively and signed with Capitol Records in 1943. That same year, the trio hit the charts with the song "That Ain't Right". The trio scored another hit the following year with "Straighten Up and Fly Right", a song based on one of Cole's father's sermons. That record sold 500,000 copies. Cole continued to score hits with such songs as 1948's "Nature Boy" and 1950's "Mona Lisa". The following year, Cole hit Number One with the song "Too Young." That same year he had another hit with "Unforgettable". In 1956, Cole made television history when he became the first African-American host of a variety television series. The Nat King Cole Show, which remained on the air until December 1957, featured performances by such artists as Count Basie, Tony Bennett, Sammy Davis Jr. and Peggy Lee. Over the course of his career, Cole appeared on numerous television shows and in several feature films. In 1958, he played the role of W.C. Handy in the film St. Louis Blues, and in 1965, he appeared alongside Jane Fonda and Lee Marvin in Cat Ballou. In December 1964, Cole was diagnosed with lung cancer. That same month, he released his last album, L-O-V-E, which reached Number Four on the charts. Nat "King" Cole died on February 15, 1965. He was 45 years old. In 1991, Mosaic Records released an 18-CD box set, The Complete Capitol Recordings of the Nat King Cole Trio. It included 349 songs. That same year, Cole's daughter, Natalie Cole, scored a hit after she recorded a duet with her father, adding her vocals to his song "Unforgettable". The father-daughter duet won seven Grammy awards. Nat Cole received a Grammy Lifetime Achievement Award in 1990.
Please wait, we are currently generating print version... You can request it directly
here
if something doesn't work.