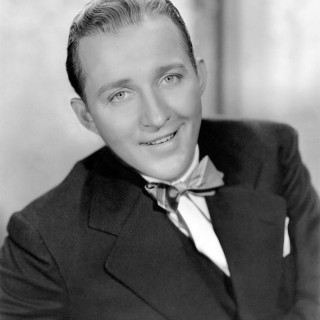 Bing Crosby
Bing Crosby was born Harry Lillis Crosby, Jr. in Tacoma, Washington, the fourth of seven children of Catherine Helen "Kate" (Harrigan) and Harry Lowe Crosby, a brewery bookkeeper. He was of English and Irish descent. Crosby studied law at Gonzaga University in Spokane but was more interested in playing the drums and singing with a local band. In the early 1930s Bing's brother Everett sent a record of Bing singing "I Surrender, Dear" to the president of CBS. His live performances from New York were carried over the national radio network for 20 consecutive weeks in 1932. His songs about not needing a bundle of money to make life happy was the right message for the decade of the Great Depression. His relaxed, low-key style carried over into the series of "Road" comedies he made with pal Bob Hope. He won the best actor Oscar for playing an easygoing priest in Going My Way (1944). Playing golf was what he liked to do best. He died at age 74 playing golf at a course outside Madrid, Spain, after completing a tour of England that had included a sold-out engagement at the London Palladium. Bing is the biggest selling artist of all time according to official records.
Please wait, we are currently generating print version... You can request it directly
here
if something doesn't work.