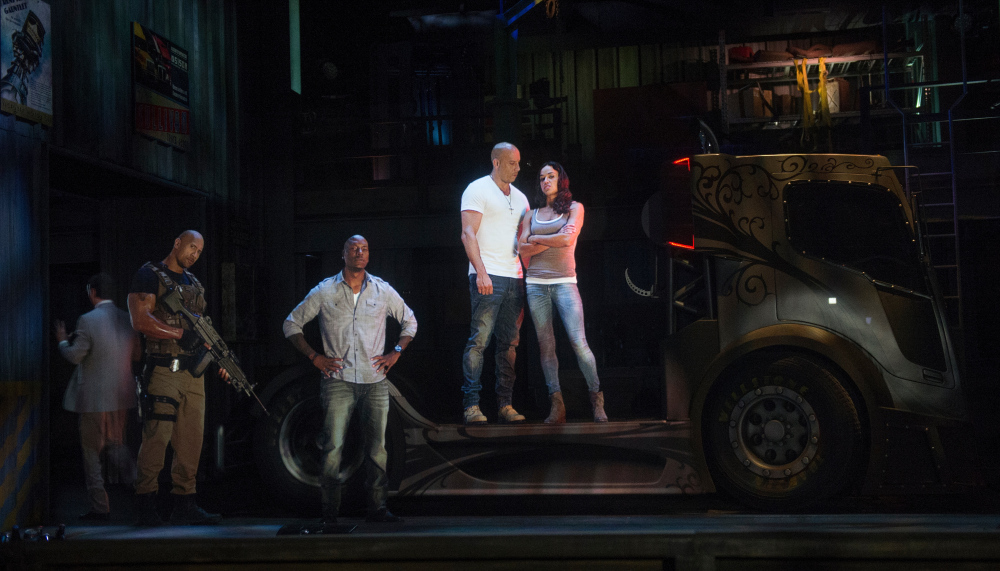 Vin Diesel was rocked by hologram Vin Diesel on the 'Fast and Furious' ride
Vin Diesel ran into Vin Diesel on Tuesday.
At least that's what it was like to ride the Fast and Furious — Supercharged ride at Universal Studios Hollywood. As this picture from the new ride shows, it's a wild trip.
The first thing that hits you are the hologram-like images — called Pepper's Ghost — in which the stars of the Furious franchise are close by looking very real.
That's not Diesel, Dwayne Johnson, Michelle Rodriguez or Tyrese Gibson. That's cutting edge footage they shot last summer for the attraction.
Diesel was one of the first humans to take the thrill ride during its grand opening celebration. He was pretty blown away seeing himself. His son Vincent Sinclair, 5, also had problems comprehending. As Diesel told us afterwards:
"It was surreal. My son looked over at me during the ride and said, 'There's two of you.' I've never had that happen to me before."
As Chick Russell, Universal Creative executive producer for the attraction, told us:
"We developed a new technology that allows us to place the stars so they look absolutely like their present in a dimensional set."
The ride then turns into a realistic car chase at a seeming 120 miles-per-hour through Los Angeles. USA TODAY was one of the first to ride Supercharged and captured video of people reacting as if they were furiously speeding with explosions go off nearby.
Tyrese was highly animated. He was shouting "We're going in, we're going in" as the tram drove into the attraction.
Afterwards he slapped hands and high-fived Diesel. Then Tyrese sat in the tram silently, getting ready to go again with his daughter, Shayla.
He told us:
"Water was splashing on me, I could feel actual heat that seemed to be coming from the explosions. The first sign that this was a hit was that my daughter said to me 'We're going back, right?' So we are."
Tyrese Gibson and daughter Shayla Somer Gibson (Getty)