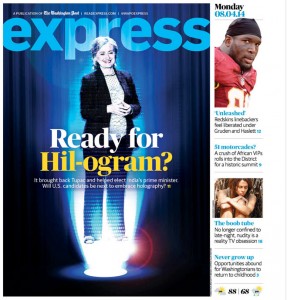 The political future of holograms is on today's newly redesigned cover
Resurrect Tupac for a live performance? Been there. Help elect a prime minister in the world's second most populous country? Done that. Next stop? Washington.
Holographic technology is coming to the nation's capital. The hope is to do for political campaigns, government agencies and trade groups what it's done for the entertainment industry and elected officials overseas in recent years: Allow people to project moving, lifelike, interactive copies of themselves in different places without actually being there.

Hologram USA, a company specializing in the technology, announced Monday that it hired the Northern Virginia-based firm U.S. Government Relations International. USGRI will try to convince would-be clients that Hologram USA's three-dimensional images, which can be broadcast live across the country, are vital communications tools that have become more necessity than novelty.

"A general or a politician or a head of corporate can project themselves physically in a life-size projection that is completely believable at a matter of a few feet," said Alki David, who heads up Hologram USA.

That's what Narendra Modi did in his winning campaign for prime minster of India this year. Hologram USA helped Modi reach out to the country's hundreds of millions of voters by enabling him to appear live in holographic form via satellite at political rallies. For many of the eager crowds who gathered to hear Modi speak, it was the next best thing to a stump speech in the flesh.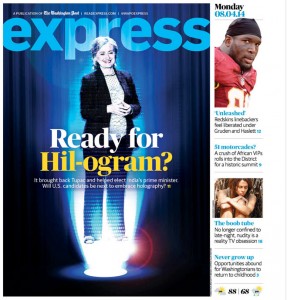 Hologram USA wants to eventually do the same thing for Rand Paul or Hillary Rodham Clinton — David says he's a fan of both — or anyone else who runs for office and is looking to improve their voter communication efforts.

David, who comes from a wealthy Greek shipping family, owns the North American license to the patent for technology created by Uwe Maass, an engineer born in Germany. The technology is an updated version of a 19th century illusion technique called Pepper's Ghost that involves reflecting images off of glass. Maass's version uses invisible foil. (David refers to it as technically not a hologram, but "hologram-like" technology.)

It works like this: The foil is placed at an angle across a stage and a moving image of someone — say, a candidate delivering a live speech — is projected onto it. With the right lighting, the result is a 3D projection that moves, talks, even dances like a real human being.

David has partnered with Maass and Giovanni Palma, who belong to a separate company called Musion Das Hologram.

Jeffrey Taylor, a managing partner at USGRI and former congressional aide, envisions the technology increasing interaction between voters and presidential candidates, who simply can't appear physically in every city, even in crucial swing states.

"Let's take New Hampshire and Clinton," explained Taylor, referencing the early nominating state. She could appear remotely via hologram in areas her schedule prevents her from traveling to, if she runs for president, fielding questions in a kind of virtual town hall meeting, he suggested.

"You would actually have an interactive, three-dimensional image and a monitor in front of her [to field questions] when the lady at a coffee klatch says, 'What are your views on energy?'" said Taylor.

He added: "The only thing you can't do is shake her hand."

But that's a challenge advocates of the technology will have to overcome, experts say. Retail politics is a big part of campaigning. Voters want to see candidates in person at the state fair or the local parade. Technology, no matter how advanced, is never going to offer a perfect replacement.

For hologram technology to take a foothold in campaigns, "it has to complement" the human element, said Zac Moffatt, Mitt Romney's 2012 digital director.

Another challenge is competition from other, less expensive social media and communications tools. For example, Clinton recently held a live chat on Facebook and one on Twitter that was streamed live on YouTube.

The question when it comes holographic technology, in Moffatt's view: "Is the impact on the voter or constituent exponentially greater than Skype or Google Hangout or other [voter contact] methodologies?"

David pegs the cost of of a robust national effort in the United States at about $6 million a month. That's beyond the budgets of most congressional campaigns and is a sizable investment even for White House hopefuls. But David argues that weighed against the cost of barnstorming the country and advancing and staffing events, it will eventually look like a bargain.

The perpetual desire to build buzz in politics could spur demand for David's company. The Republican and Democratic presidential nominating conventions routinely try to outdo one another with bells and whistles designed to attract earned media attention.

David pegs the cost of of a robust national effort in the United States at about $6 million a month. That's beyond the budgets of most congressional campaigns and is a sizable investment even for White House hopefuls. But David argues that weighed against the cost of barnstorming the country and advancing and staffing events, it will eventually look like a bargain.

The perpetual desire to build buzz in politics could spur demand for David's company. The Republican and Democratic presidential nominating conventions routinely try to outdo one another with bells and whistles designed to attract earned media attention.

Few technological advances are buzzier now than holograms. The 2012 Coachella music festival featured a performance by a holographic recreation of late rapper Tupac Shakur. It went viral online. This year's Billboard Music Awards brought back Michael Jackson. (The performance triggered competing lawsuits between David and another company over patent rights.)

The increasing desire to micro-target voters in campaigns could also boost the appeal of holographic technology.

"With advancements in artificial intelligence, you could soon have holograms of presidential candidates at your door, interacting with you and asking and answering questions," wrote David Plouffe in a recent Wall Street Journal op-ed. Plouffe managed President Obama's 2008 campaign.

Beyond the campaign trail, David and Taylor see other reasons to bring the technology to Washington. Military simulations and briefings could be improved, they say. It could also enable the White House to communicate with more Americans by bringing the president into a "sixth grade classroom in Missouri," without all the costs of travel and security, for example, said Taylor.

It was technology that brought Taylor and David together. Taylor reached out after seeing David in a TV interview. They connected through LinkedIn, the social networking site.

To David, who says he is already in talks with Democrats and Republicans he declined to name, the technology's best selling point is the awe it in inspires when people experience it for the first time.

"I think that as much as we can write about it and evangelize it and imagine it and see it online, you don't get the impact of what it's really like until you see it," he said.


Original article is taken from www.anakando.com